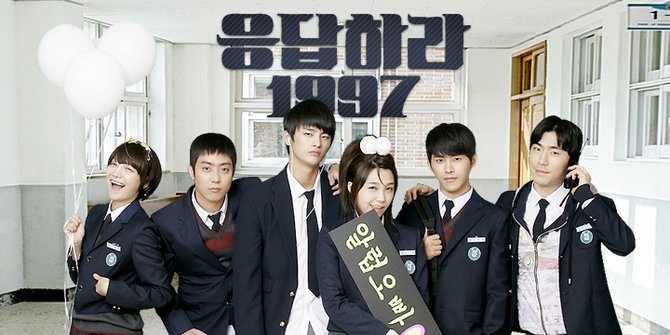 "Some people believe they are born with an invisible red string tied around their little finger… The string is tied to a person they're destined to be with. 

However, it's hard finding out who is the person at the other end.
The string is as tangled as the number of people tied together. 

As we untangle it, we get to see our fate

. If the red string of fate really exists, where will mine end?"
 – Reply 1997
Saya baru saja selesai menonton Reply 1997. Butuh waktu 2 tahun sejak menonton seri Reply lainnya yaitu Reply 1988 sampai akhirnya saya tergerak untuk menonton Reply 1997. Jujur saja, saya sangat menyukai karya sang penulis skenario, Lee Woo Jung. Jika saya ditanya apa drama favorit saya, jawabannya tak lain Reply 1988. Tetapi karena cukup terpukul dengan ending ceritanya, saya memilih untuk mengambil jeda sebelum menonton Reply lainnya. Long story short, minggu lalu, tak sengaja saya menemukan video clip All For You (Seo In Guk ft Eunji) yang merupakan salah satu soundtrack Reply 1997. Tiba-tiba saya ingin menonton drama tersebut dan kembali mengatakan: Lee Woo Jung adalah penulis skenario yang ingin saya curi kemampuan menulisnya.